Announcements
ROWING CLINIC w/Coach Caitlin! Feb 23rd
Details and RSVP:
CrossFit Tigard PAW – CrossFit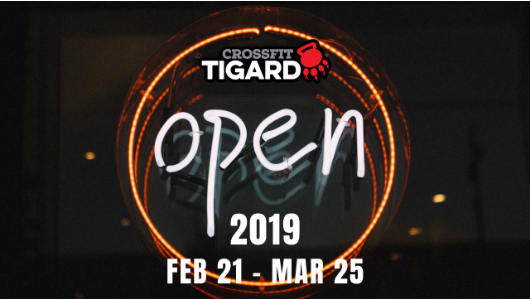 Signup for the OPEN by Feb 8th to Guarantee your Team Shirt
Warm-up
PVC Passthroughs
8 AMRAP:

10 Alt Groiners (Big Lunge W/Elbow Towards Ground by Ankle)

5 Primal Pullthroughs

10 KB Power Swings

5 KB Goblet Squat w/Pause
Strength
Back Squat

On the 90 sec, 10 Rds:

3 Back Squat
*Build in weight for first 5 rounds, then hold across for the remaining 5
Back Squat (today's working sets)
Metcon
KB – Lunge – T2B (Time)
6 Rounds For Time:

10 KB Swing (53/36)

10 Reverse Step Goblet Lunge (53/36)**

10 Toes to Bar
*RX+: 8 Rounds
**Hold KB at chest, goblet style. Stationary lunge, w/step backwards instead of forward. Alternate legs each step for 10 total reps.
***1 Heat, 20 mins CAP
Supplementals (Extra Credit)
BIAS WORK

CONDITIONING

3 SETS (85%)

21-15-9

Cal Row

Ski
-Rest 2:00 b/t sets-
STRENGTH (85%)

ARMAP x 7 Minutes

MAX Clean and Jerks (135/95)
-Rest 3:00-
AMRAP x 5:00

Max Snatches (115/75)
-Rest 2:00-
AMRAP x 3:00

MAX Thrusters (95/65)